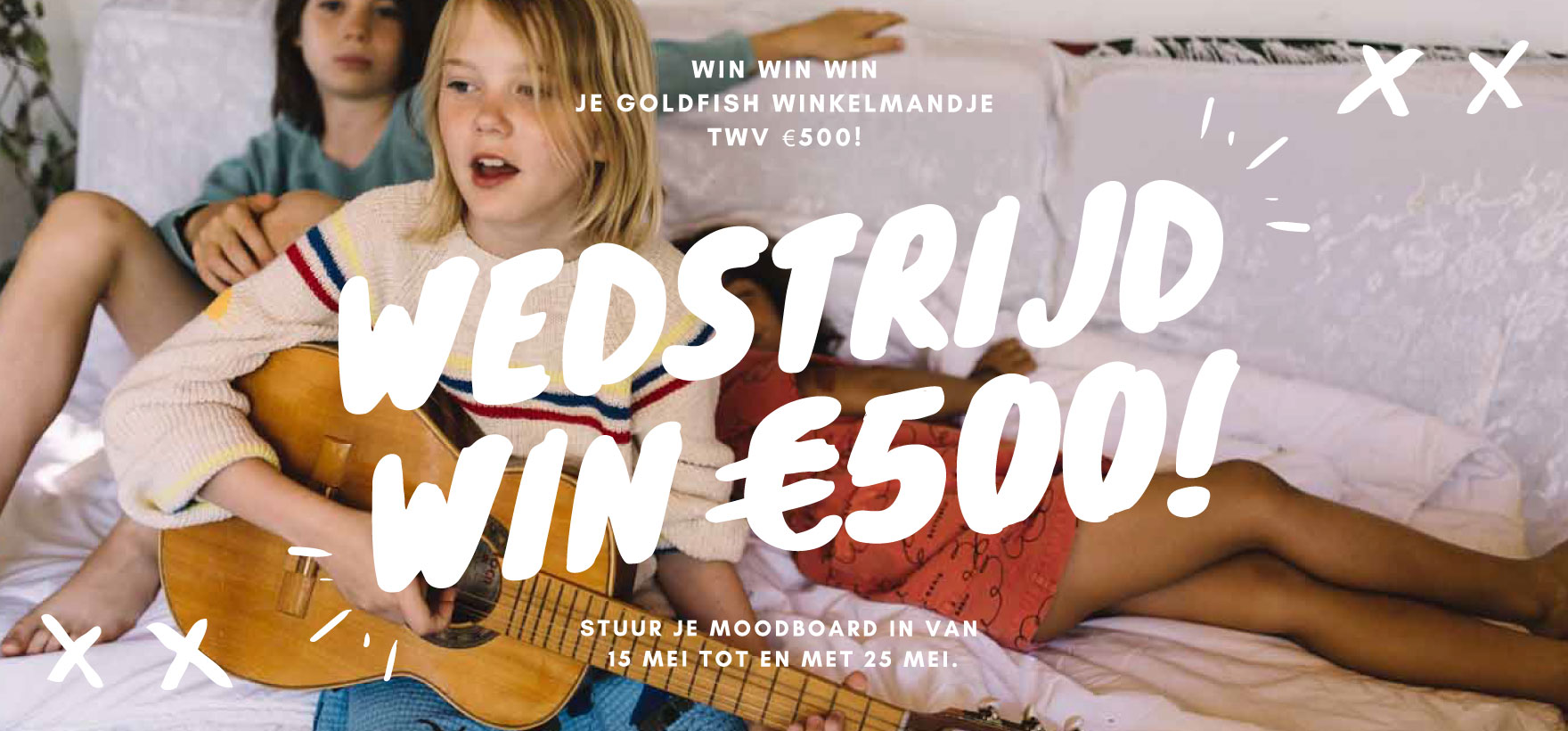 WEDSTRIJD:
WIN JE WINKELMAND TWV €500!
Leuk nieuws voor al wie houdt van online winkelmandjes vullen (wij allemaal dus :-)), want deze maand kan je - jawel! - de inhoud van je Goldfish-droomwinkelmandje winnen.
Hoe?

Simpel: door jouw ideale capsulecollectie voor de zomer bij elkaar te klikken & die favoriete summer wardrobe op een originele manier aan onze jury te presenteren. Ready? Set? GO!
Wat is een capsulecollectie?
Een minimalistische en efficiënte garderobe die bestaat uit een paar stuks (kwaliteit boven kwantiteit). Je kan alle stuks onderling met elkaar combineren en zo telkens een nieuwe, matching outfit samenstellen. Comfy of chic, voor zonnig zomerweer of een Belgische regendag: gewoon willekeurig enkele stuks uit je collectie matchen en het ziet er al-tijd fantastisch uit.
Wat moet je doen?
Surf naar Goldfish.be en stel jouw favoriete zomerse capsulecollectie samen.

Maak een origineel moodboard waarop je jouw zomerse capsulecollectie presenteert. Je kiest zelf hoe je dat moodboard samenstelt en vormgeeft: de ene wil misschien digitaal aan de slag, terwijl de andere gaat voor de old school combi schaar-lijm-papier. Vul naar hartenlust aan met leuke beelden, quotes of inspiratieplaatjes. Laat je gaan!

Post je moodboard (of een foto van je moodboard) op Instagram met deze 4 hashtags: #MyGoldfishCart #GoldfishGiveaway #Forevergoldfish #GoldfishStyle en tag @goldfish.be – Leg in je caption kort uit waarom jouw capsulecollectie winnaarsmateriaal is. TIP: Zorg ervoor dat je Instagramprofiel op publiek staat gedurende de hele wedstrijd zodat we jouw deelname kunnen zien op de #MygoldfishCart en op de @goldfish.be tag.

Mail ook nog even een kopie van je moodboard naar [email protected] - Alle deelnemers krijgen achteraf een leuk mailtje van ons terug ;)

Deelnemen kan van 15 t.e.m. 25 mei 2018 om 12u 's middags. Op 26 mei beraadslaagt onze vierkoppige jury en op 27 mei wordt de winnaar bekendgemaakt
Wat kan je winnen?
De inhoud van je Goldfish.be-droomwinkelmandje (t.w.v. 500 euro)! Shoppen kan online of in de winkel, van 27 mei tot en met 6 juni 2018.
De jury, 4 hometown heroes!
Een professionele jury van hometown heroes (Sara Feskens, Véronique Leysen, Kelli Van Hees en Rien de Mey) kiest de winnaar. In afwachting van jullie geweldige inzendingen, hebben onze juryleden alvast een paar handige capsuletips voor jullie klaar:
Kelli Van Hees
Oprichtster & creatief superbrein achter Lily, Life's little Luxuries

"Een leuk voordeel van een capsulecollectie is dat het samenstellen ervan je verplicht om ook wat betreft stijl een duidelijke richting uit te gaan. Zo sta je bewust stil bij je stijl (en puur je die zelfs nog verder uit) en doe je veel minder miskopen."
V

eronique Leysen
Bezielster en eigenaar van koffiebars Maurice Coffee & Knits & het modelabel Maurice knitwear
"Opdat je een outfit zou kunnen samenstellen voor elke gelegenheid, zorg je in je capsulegarderobe voor zowel geklede als casual stukken. Combineer die items ook onderling in je looks: door chic en casual te mixen, creëer je net heel spannende silhouetten."
Sara Feskens
Merkenmaker & leading lady bij Wagenoord:
"Cover your bases: een capsulecollectie die enkel uit jurken bestaat? Of 8 bovenstuks, maar amper één broek? Zo beperk je niet alleen je creatieve vrijheid, je looks zullen er ook altijd min of meer hetzelfde uitzien. Saai! Zorg dus voor een slimme combinatie van verschillende onder- en bovenstukken en onepieces. Denk ook aan het (Belgische) weer: de ideale capsule bevat laagjes voor alle weersomstandigheden."
Rien de Mey
Mode-, mama- en lifestylejournalist voor o.a. Het Nieuwsblad:
"Valkuil bij het samenstellen van een capsulecollectie? Iets te enthousiast basics inslaan. Een paar goeie basics zijn natuurlijk handig om alles onderling te mixen en te matchen, maar bestaat je capsule uit te veel basisstukken, dan oogt het geheel al snel saai. Zorg dus voor voldoende statementpieces, zet in op opvallende details én durf prints te combineren."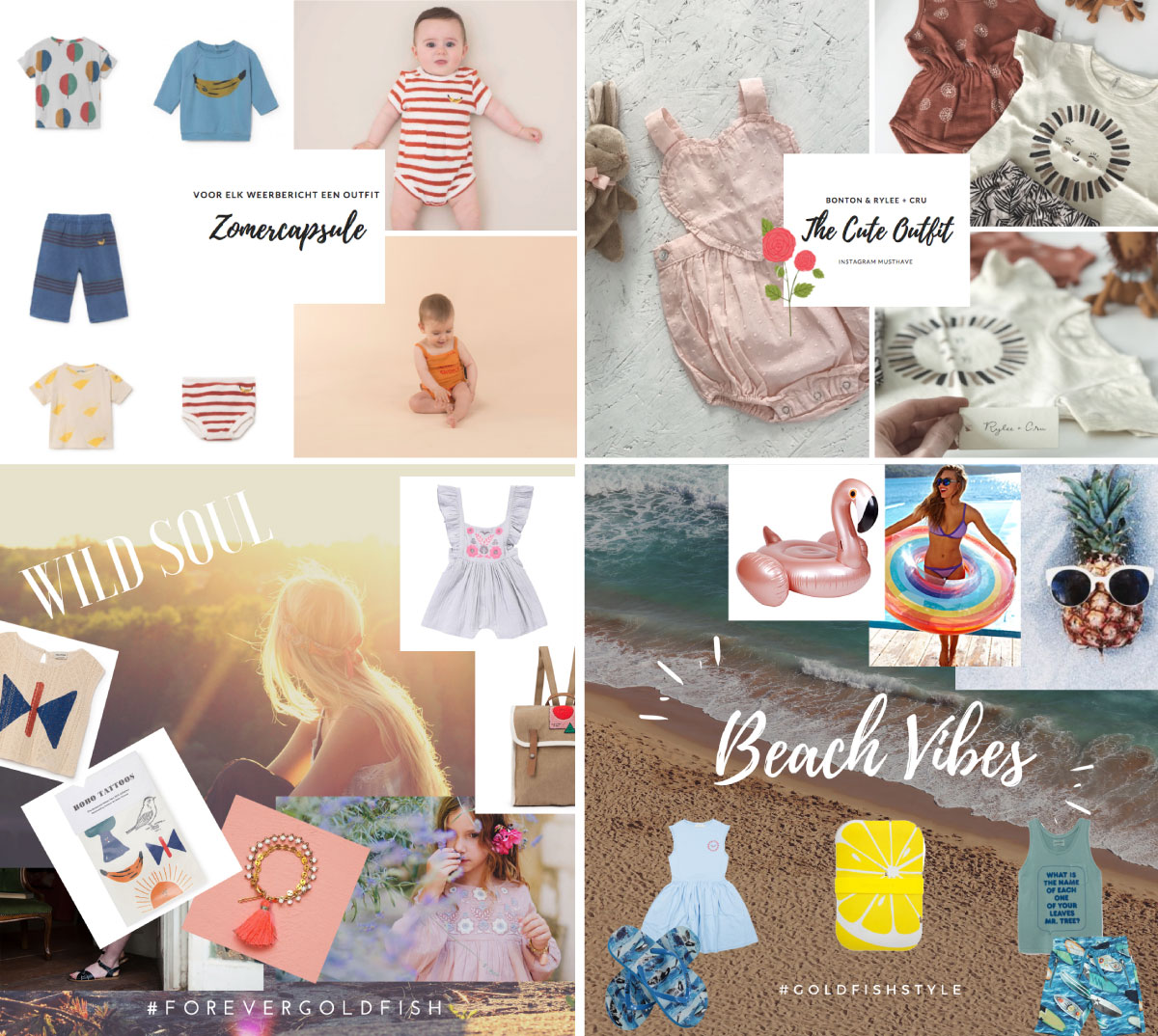 FAQ
Waar let de jury op?
Onze vierkoppige jury (Kelli, Véronique, Rien en Sara) beoordeelt de inzendingen op basis van creativiteit, styling, originaliteit en #goldfishstyle.
Wanneer wordt de winnaar bekendgemaakt?
27 mei is D-day! De winnaar wordt persoonlijk verwittigd én we delen het blije nieuws ook nog een keer op Instagram en Facebook.
Wat als ik niet gewonnen heb?
Winnen is tof, maar deelnemen is minstens even leuk! Wij voorzien een verrassing voor alle deelnemers!
Ik heb geen Instagramprofiel maar maak wel graag supermooie moodboards van Goldfish! Wat nu?
Geen probleem, mail je moodboard naar [email protected], zodat wij het kunnen delen!